The novel coronavirus has disrupted services and technology across the globe, forcing most industries and businesses to rely mostly on efficient tech for coordinating with staff and running their operations. Many Sectors are now relying on devices that help the institutions interact with their teams, these sectors range from education, healthcare, manufacturing, and retail. The corona pandemic has also caused many educational institutions to stop the attendance, delay exams and search for ways to ensure seamless learning and academic study for their students.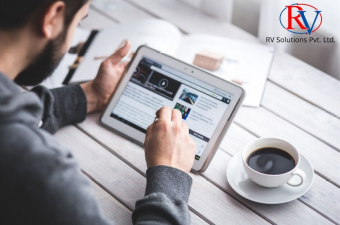 The world today is staring at a very worrying some propositions for example in the education sector it is said in the WSJ that the pandemic has sent 1.5 billion children home from school globally, School closures this spring that left more than 1.5 billion children around the world out of the classroom are now compounding longstanding social differences, as millions of children in the continents of U.S. & Europe who lacked the support to continue distance learning through the online medium, risk leaving school altogether. The New Normal has been defined as "Working From Home". Most of us have been provided with laptops from the organisation, which can be used for working on the go, or just working from some place other than a desk. But if you have an electronic tablet, you have indeed got a powerful tool in your "work-at-home" arsenal that you might not have considered.
Tablets provide the ultimate in mobility, way more than traditional PCs and is a step forward from laptops and notebooks, at the same time they have a higher battery capacity and more beneficial than the capabilities shown by an average mobile smartphone. Tablets allow users to stay productive anywhere. Tablet are lightweight and are portable, and their easy-to-use touch screens make them ideal for taking business on the road. While consumers change their tablets every 12-18 months, the enterprise refresh cycle typically spans 2 to 3 years.
Tablets with screens measuring 7-inch screens or less constituted 39% of the overall shipments in the Indian market, whereas 10-inch and above tablets contributed to 35% of the shipments. it has been observed that During the course of 2019, the average sales value (ASV) for tablets in India increased, indicating a latent demand from enterprise players for variants with higher-end spec. Better battery back-up, lack of moving parts, ease of use and the rapid development of applications are the key features that are attracting enterprises to tablet PCs. The adoption rate will be partly dependent on how data packages are priced and the affordable price points of tablet PCs.
For the enterprise, we see two major tablet applications:
Better mobile connectivity than PDAs. In particular as the tablets are able to give a more feature-rich browsing experience and reasonable email communication. They also tend to work better with web apps than the previous mobile devices that have been there in existence.
Ability to design and deploy custom native apps.
A leading Home Health Care Organisation has deployed 7-inch tablets to its 4,000 home health care workers, who are now able to work more effectively and efficiently—they can use the tablets for easily filling in the patient forms faster, added to that it can also be used to refer the patient records instantly, answer the queries of the patient, thanks to the inbuilt GPS, even optimize their travel. They also particularly like the form factor, which is ergonomic and less intrusive when sitting with patients. Some of the Leading hospitals based out of New Delhi and Mumbai have also introduced the tablets PCs for Medical specialists, as the device works on "store and forward" approach, that can be taken wherever needed and later connected onto the network to update patient information within the hospital management system. This is very beneficial to both the doctors and the patients as the doctors can view the entire medical history of the patient at the touch of the button and the patient too doesn't have to always carry all the prescriptions to the hospital. Tech has indeed made life easier.
According to the Forrester report, 34% of information workers are already using company-specific applications on tablets. That report also reveals that most popular applications being used for work on smartphones are also being used on tablets—and to a greater degree. Of a group of 4,400-plus information workers, 79% said they use their smartphone to access email, while 85% said the same of their tablets. The intranet is used by 26% on smartphones, but 44% on tablets. File storage, information management, Web Conferencing, Team Collaboration, Sales Force applications—in every instance, users are engaging these work applications more with tablets than smartphones.
How RV Solutions is adding value by providing Repair and Replacement Services through 1000+ service centre network Pan India:
RV Solutions Pvt. Ltd. is a nationwide service provider. . With a team of dedicated Technicians the team ensures that prompt after sales services are provided to the customer who walks in with the defective product at the Service Centre where the services are provided within the defined SLAs. At RV Solutions we go great lengths to ensure that our technicians are well trained in the latest tech with the support of our brand.
We believe it is professionalism, quality and integrity that create great services that will provide a valued return for our respected customers. The trainings team also ensures that all the technicians are trained in the latest technologies and are capable of providing good service at the service centre.
We provide customised support for repair or replacement services for tablets. Being a young organization we've the dynamism and zeal to surpass the expectations that the clients expect from us. To know how we can add value you can drop us an email at sales@rvsolutions.in and we would align a representative to come across and meet and explain how we transform your after sales services.