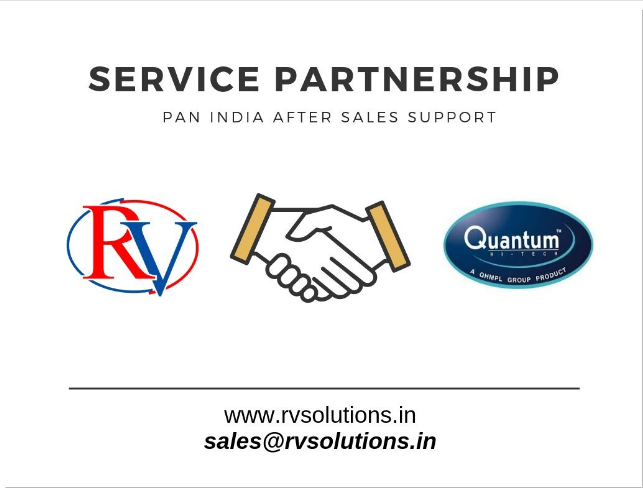 Noida, – June 26th 2019 – RV Solutions Pvt. Ltd., announced that it has been selected by Quantum Hi Tech Pvt. Ltd. as their After Sales service partner. Quantum is well known brand in computer accessories, and leading computer accessories manufacturer.
This newly formed association between RV Solutions and Quantum is in line so as to provide the best solutions to its customers as RV Solutions has a strong Pan India Presence of Service Centres across the country and are skilled in repairs of mobility and IT peripheral products.
"With RV Solutions Pvt. Ltd., we have finally found a strategic partner helping us and our customers to provide a complete after sales solution for our products, without a doubt, RV Solutions is the leader in after-sales services and this substantial experience and deep expertise forms the foundation for our new joint venture. I'm really looking forward to turning our vision together with RV Solutions Pvt Ltd. into reality." Said Mr.Mohit Ahuja Service Head at Quantum.
RV Solutions Pvt. Ltd. operates 1200+ service centres with an employee strength of around 500+ across the length and breadth of India. All service centres are connected with in-house CRM for the real time information/updates.
" We believe in providing a fantastic overall customer experience and as a reason we would continue to invest in delivering premium customer care services. Our evolving partnership with Quantum is another great achievement for us and it definitely fills us with pride. "Mr Vivek Gupta, BU Head of RV Solutions Pvt. Ltd." said.
About RV Solutions Pvt. Ltd.
RV Solutions Pvt. Ltd., a leading provider of Technology Lifecycle Services, RV's single-minded mission is to create enduring value for our customers through innovation know-how & industry expertise to make their businesses stronger.
As a customer-centric, relationship-driven partner, we are redefining the way companies experience and benefit from RV's Technology services and solutions. Our coverage includes whole gamut of services in ICT starting from sales and supply, installation and commissioning, after sales services, maintenance services, repair and refurbishment, software development and implementation, system integration, digitization. All these are managed and controlled through robust processes implemented through skilled staff with pan-India presence. The domain expertise help us innovate solutions to unique problems faced by our clients.
Our geographical and domain coverage makes us a one stop shop for any onsite as well as offsite activities with capability to provide unique and niche solutions in ICT.
Our Repair domain ensures faster return that is TAT, High Yield on End of Life Product and catering to wide range of Products as a result our unique delivery model is infused with a high customer satisfaction.
For more information, visit http://www.rvsolutions.in
About Quantum Hi-Tech Pvt. Ltd.
Quantum Hi- Tech merchandising is the IT arm of the India based QHMPL GROUP with diversified interests in the field of IT, Communication and Steel. QHM's core business is distributing Quality Information Technology products globally. QHM today with its brand name QUANTUM HI-TECH is one of the most respected brand names in India and our products are widely distributed. With our manufacturing facility in China Foshan and our core strength in the Steel industry we can boast with confidence of competitiveness in Design, Logistics and Economics of Computer Cases / Cabinets. With our technical expertise and highly trained R & D Engineers we can assure that each product under the banner of Quantum Hi-Tech is a bench mark of quality and reliability.
For more information, visit http://www.qhmpl.com